Statim Yaga ·
Holly Summers crowned NRL Young Person of the Year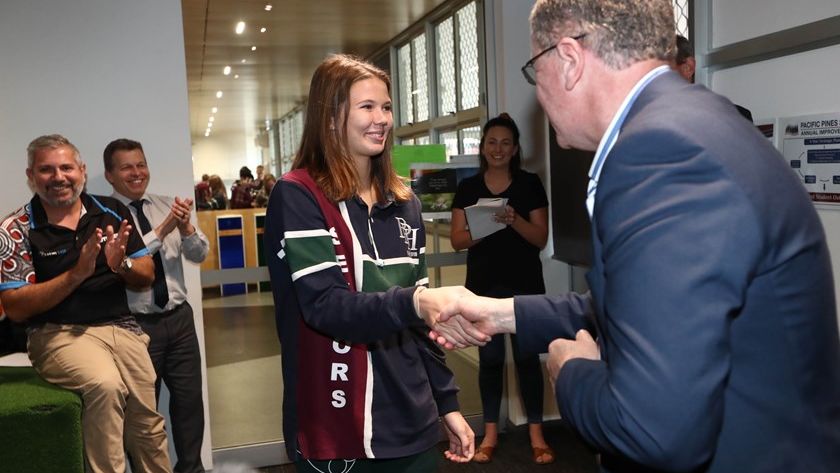 Winning the NRL Community Young Person of the Year Award has allowed Holly Summers to reflect on just how far she's come.
Summers is the third recipient of the prestigious annual honour, bestowed on someone aged 12 to 24 who has engaged in an NRL community or club program and contributed positively to society through rugby league.
The teenager is the captain of Pacific Pines State High School in Queensland, participated in the Gold Coast Titans' School to Work and Deadly Futures programs and received the Peter Doherty Award for outstanding Aboriginal and Torres Strait Islander senior STEM student.
She represented the Titans at last year's NRL Indigenous Youth Leadership Summit and was voted Female Youth Ambassador runner-up. Summers also recently won the Titans Indigenous Student of the Year Award, affirming her standing as a rising leader.
Summers clearly has the world at her feet but she's had to push through some personal battles to get to this position.
"I've struggled with my mental health quite a fair bit in the past. I wasn't around very good people," Summers said.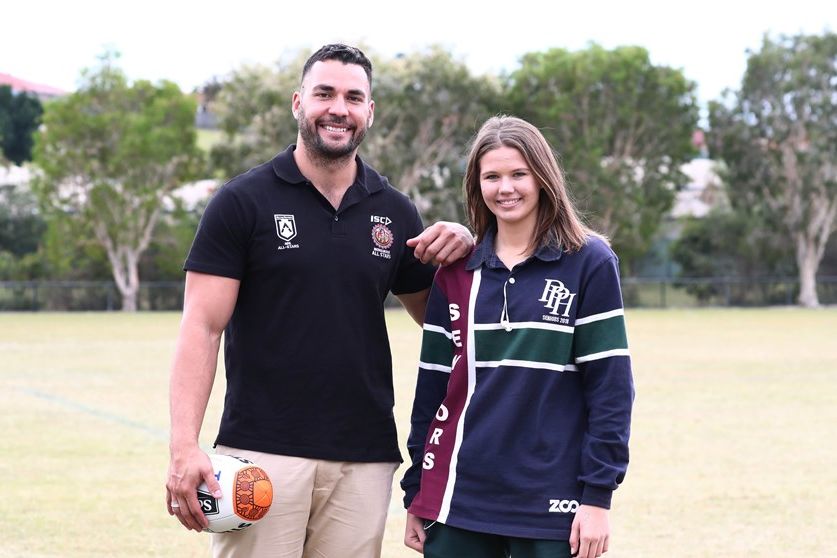 NRL Young Person of the Year, Holly Summers, with Titans captain Ryan James. ©NRL Photos
"And I think that after I finally started reaching out I got involved a lot more in my community.
"That's when I got a lot better. Looking back at where I was and where I am now, I'm really proud of myself and I'm really proud of the people around me for putting up with me for so long and sticking by my side."
Summers's leadership skills have impressed everyone at the Titans, including captain Ryan James.
"I don't know if she knows it yet but she could definitely have a massive impact in Australia and worldwide," James said.
"That's up to Holly to decide and I know she's on the right track."
Former Titans playmaker Preston Campbell noted Summers's growth in confidence since working with the club.
"It's a testament to herself, where she's been able to come from," the Indigenous icon said.
"Holly's one of those young people that try to use their story, their journey in order to help people and create awareness and expose some of the issues in our community."
As well as her community efforts, Summers is a talented player. Having been around rugby league her whole life, she took up the sport when she was 14 and played for the Parkwood Sharks women's team and the Gold Coast under 18s in 2019.
A gifted academic, Summers has accepted a scholarship to attend the University of Queensland Gatton Campus to study a Bachelor of Wildlife Science.
Campbell believes Summers will be an emphatic success no matter if she chooses a career involving animals or remains in rugby league.
"Holly understand that the more people she can get around her and supporting her in a positive way, the further she's going to go - whether that's in the rugby league field or the environmental or animal field," Campbell said.
"For a lack of a better way of putting it, it's karma. She's put so much back into her school and back into her community, the rugby league community, and it's paid dividends."
Summers beat 11 other worthy nominees for the award.
All but two of the candidates participated in the NRL School to Work Program, highlighting its effectiveness in helping Indigenous Australians stay in school and setting them up for employment opportunities.
"We've identified a number of incredibly talented Indigenous leaders who will go on to make huge contributions in their local communities," NRL head of government and community relations Jaymes Boland-Rudder told NRL.com.
"It really highlights the strong connections our sport has with Aboriginal and Torres Strait Islander communities. It's part of that two-way relationship – the communities give so much to our game through such talented players."
Boland-Rudder was in awe of the tremendous group who were contending for the prize.
"There were nominees that played at the highest level in rugby league - there were a couple of girls that played in the Indigenous All Stars team this year," he said.
"It's astounding to think they're juggling their school commitments alongside their football commitments and achieving at the highest levels."
Summers will receive a $2500 voucher to put towards her education and career goals as part of taking out the Young Person of the Year Award.
The award is supported by Statim Yaga, a Hutchinson Builders initiative to train and place 550 Indigenous job seekers into employment within the construction industry by 2020.
#Young Person of the Year Award nominees
Cooper Ford (Brisbane Broncos – Beyond the Broncos Girls Academy)
Caitlyn Joseph (Canterbury Bankstown Bulldogs – School to Work)
Tahni Anger (St George Illawarra Dragons – School to Work)
Ameena Kanj (Parramatta Eels – School to Work)
Holly Summers (Gold Coast Titans – School to Work)
Caitlan Johnston (Newcastle Knights – School to Work)
Shaylee Bent (Penrith Panthers – School to Work)
Riley Weatherall (Sydney Roosters – School to Work)
Kirralee Smith (Cronulla Sutherland Sharks – School to Work)
Tyreece Lyons (South Sydney Rabbitohs – Naga Mai Marri Program)
Ky-ya Ward (Melbourne Storm – School to Work)
Rachel Arthur (Wests Tigers – School to Work)