Statim Yaga ·
Red carpet treatment for ambassador Preston Campbell in outback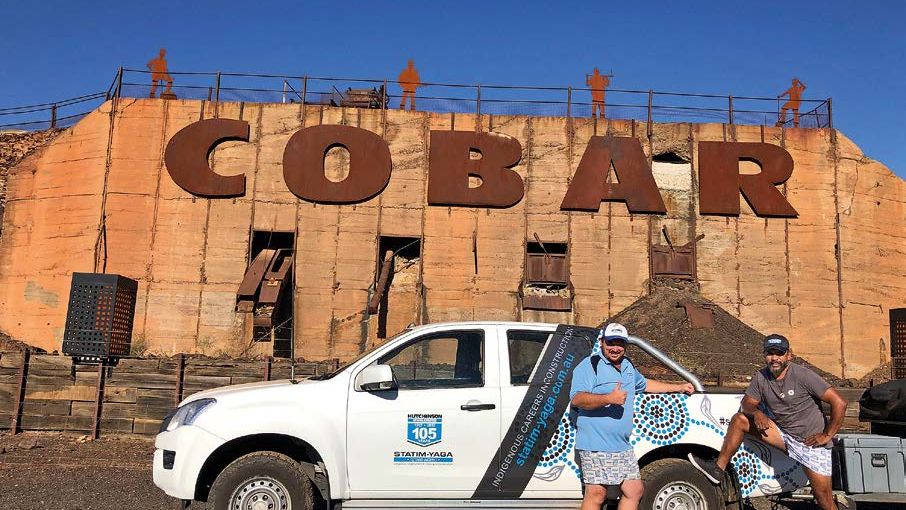 Hutchies is kicking goals in Cobar with the help of former NRL player, Preston Campbell, who is also ambassador for Hutchies' Statim Yaga (start work) Indig-enous work program.
Cobar – a small central western New South Wales town 700 kms north-west of Sydney and a gateway to Australia's outback – was in a state of excitement in March with its VIP visitors.
The Statim Yaga visit, organised by Hutchies' Indigenous work coordinators, Mark Kucks and Joel Anderson, featured Preston Campbell and Kyel Dancy from the Preston Campbell Foundation who were given red carpet treatment during their time in Cobar.
Preston, a rugby league legend and businessman, has been involved with Statim Yaga for several years and is a roving ambassador for the cause.
Hutchies is working on a multi-purpose services (MPS) project at Cobar for the New South Wales government which will deliver a new health service co-located adjacent to the existing aged care facility owned by Cobar Shire Council.
There was an enormous response in the community when word went out that Preston Campbell was coming to town and everyone wanted to meet him.
The visit came about through Hutchies' engagement with the local community including the Cobar Shire Council, Cobar Community Working Party, Cobar Local Aboriginal Lands Council, and schools.
As well as work experience on site and programs with the town's schools, Hutchies' local team wanted to do some-
thing positive for young people in the Cobar community … and a visit from a prominent Indigenous role model was just the ticket.
On his arrival, Preston spent time on the Hutchies' MPS site being shown around the job by site manager, Greg Aird, and his crew, including Indigenous labourer and Cobar local, Robert "Chook" Childs.
In the afternoon, Preston attended the Cobar Roosters junior rugby league training session and chatted with 200 youngsters about his own life in rugby league after growing up in a small country town.
As souvenirs, Preston distributed Hutchies' footballs and water bottles to players and supporters.
In the evening, he met members of the Cobar Yabbies swimming club at the local golf club.
Next day, he was off to Cobar State High School, where he addressed the morning muster and spoke to several classes before visiting the Cobar Primary School in the afternoon with more Hutchies' gifts in tow for the students.
During his schools visits, Preston spoke about the importance of social and emotional well-being and encouraged the students to talk about their feelings and to seek out people and hobbies that made positive differences to their lives.
Late afternoon, he attended a community-wide barbecue, where he signed autographs and played touch football.
While in town, Preston also met with local Indigenous groups and Indigenous leaders.
That evening he concluded his tour by joining the Hutchies' team for dinner at a local Thai restaurant.
Site manager, Greg Aird, said he had received great feedback on the Statim Yaga visit which encouraged young people to think about their futures.
"It was a real honour meeting Preston who is a champion bloke and he will be remembered for a long time in Cobar," said Greg.
Hutchies' Indigenous coordinator, Joel Anderson, said the highlight for him was seeing all Hutchies' team members down tools and spend the afternoon at the community barbecue speaking with local people and showing that they genuinely valued the communities in which they worked.
Hutchies has become deeply involved with the local community since starting work in Cobar.
In December, team members joined with the Cobar Rotary Club to raise funds for local drought relief.
The team decided to use their site Christmas party to support the cause.
"We engaged the Cobar Rotary Club to cook the barbecue and, with our raffles, we raised $525 which exceeded our target," said Greg.
He said the funds were used to buy food parcels and other items for distribution to local farmers.